Success Story: beIN SPORTS US — Interactive Reruns powered by Flowics
beIN SPORTS invites fans to relive historic games between Real Madrid and Barcelona, adding an interactive layer to their broadcasts.
The void left by the suspension of practically all sporting events around the world due to the COVID-19 pandemic has forced the media to reprogram much of its content grid.
As a result, many sports channels have turned to their archives for content—allowing audiences to relive great games from across history. What soccer fan doesn't want to relive, for example, Messi's first Hat–trick against Real Madrid or that 2-6 match at Santiago Bernabéu? Broadcasting matches and games from the archives is a resource now being used by most sports channels, which begs the question: how to make your content even more attractive than the rest?
One way to do so is by adding an interactive layer to your broadcasts that provides viewers with a nuanced experience. This is what beIN SPORTS has been doing during its new broadcast, #ClasicoAtHome.
#ClasicoAtHome is a production that airs weekly on social platforms (Facebook Live and YouTube Live) and on the beIN SPORTS Extra channel. The show invites fans to relive historic games between Real Madrid and Barcelona, and during each broadcast, beIN SPORTS uses different Flowics engagement mechanics to keep their audiences hooked.
Polls: Who was the best captain of all time? What about the best striker? During broadcasts, fans can participate in different on-air surveys and respond in real time through Native Twitter polls or by commenting with specific hashtags on different social networks.
Trivia: In this participation mechanic, the production team challenges fans to answer sports history trivia questions, for example: who was the youngest player to score in "El Clásico"?
Photos and comments from the audience: During broadcasts, different CTAs appear on the screen, inviting the audience to send in questions, comments, and even images that will later appear on air during the game.
Native Twitter poll results displayed on air using Flowics' Cloud Graphics solution.
            Comments from the audience on Social Networks integrated into the broadcast.
Photos and videos from both audience members and players' official accounts.
Through the use of these mechanics, beIN SPORTS aims to "gamify" the experience, creating the feel of a live show. and adding value to pre-recorded content.
Creating Graphic Scenes
Flowics' Cloud Graphics solution is used to create graphic packages with full L bars that display not only social–media and audience–engagement content, but also news and other relevant information.
Flowics' solution also gives you the ability to create visualizations with dynamic content, using data from Google Sheets. Learn more about this new functionality.
This is just one example of how the media is adapting to new realities. Learn how Flowics can help you capture and retain the attention of your audience—even when using footage from the archive.
Request a demo to learn more.
Al Jazeera Bets Heavily on Soccer on U.S. TV
Al Jazeera's beIN Sport subsidiary bought the rights to broadcast some of the United States World Cup qualifying games and has paid heavily to show European soccer in the U.S.
Al Jazeera, once known in the United States mostly for televising videos of Americans and others taken hostage in foreign countries, but now a serious presence as a worldwide network, is betting heavily on sports to win American viewers.
This month, an Al Jazeera subsidiary, beIN Sport, bought the rights to broadcast some of the United States national soccer team's games as it seeks to qualify for the 2014 World Cup. BeIN Sport has also paid heavily to show in the United States some of Europe's best soccer from Spain, Italy, France and England.
BeIN Sport's bold entry into the American market befits its deep-pocketed owners, who appear committed to becoming a major player in soccer, the globe's most popular sport. It could make an even bigger splash if it bids in the coming months for the rights to broadcast England's Premier League in the United States, where the league has a growing and devoted following, as well as Major League Soccer, whose broadcast rights expire in 2014.
It is unclear whether the network's buying spree is designed to make money, to raise its global brand or to perhaps provide leverage to get United States exposure for its news network. To date, Al Jazeera's English-language news service has gained only a tiny foothold in the American market, but it could use its growing prominence in sports broadcasting to compel cable providers to carry its news programming.
beIN Sports to air Collins Cup in US, Canada, MENA
The Professional Triathletes Organisation (PTO) and beIN Sports have agreed a partnership that will see The Collins Cup screened live and on demand in the US, Canada, and 24 countries across the Middle East and North Africa on beIN Sports.
The Collins Cup is the PTO's inaugural flagship event taking place on August 28th in Šamorín, Slovakia and is a new race format modelled after the Ryder Cup, which will see teams of International, European and US athletes pitted against one another.
As part of the multi-regional deal the entire Collins Cup broadcast of over 7 hours will be broadcast live on beIN Sports across the Middle East and North Africa, US and Canada in addition to an hour-long highlights programme of the race action from The Collins Cup. beIN Sports will also air the PTO's 2-part Beyond Human documentary produced by Noah Media Group, which follows the journeys of three of the biggest names in the sport – Lionel Sanders (Team Internationals), Sebastien Kienle (Team Europe) and Heather Jackson (Team US) in their quest to see who rules triathlon.
A beIN Media Group spokesperson said: "The Collins Cup will be fantastic entertainment for triathlon fans, so we are thrilled to bring this unique competition to our subscribers in the United States, Canada, and across the Middle East and North Africa."
Tim Godfrey, Chief Marketing Officer at PTO, added: "We are delighted to be able to work with beIN Sports in Middle East, North Africa, USA and Canada to showcase The Collins Cup live as well as our behind the scenes documentary."
Related posts:
You must be logged in to post a comment Login
Watch & DVR Live Sports
Stream all beIN SPORTS channels live and on-demand with fuboTV. Do not miss a moment of the teams you love – watch from your desktop, smartphone, tablet, Roku, Fire TV, Apple TV and Chromecast.
What is fuboTV?fuboTV is a service that broadcasts live TV over the internet, no cable required. Watch your favorite teams, network shows, news and movies on 100+ channels. Plus on-demand entertainment including full TV series.
Can I watch soccer leagues live with fuboTV?Yes! fuboTV networks broadcast LaLiga, Premier League, UEFA Champions League, MLS, Ligue 1, Liga MX, Serie A and many other leagues and tournaments.
Does fuboTV have channels like ABC, CBS, FOX and NBC?Yes, fuboTV has ABC*, CBS*, FOX* and NBC* as well as ESPN, AMC, MTV, VH1, SHOWTIME, HGTV, MSNBC, FX, USA, Comedy Central, A&E, Food Network, E!, Discovery Channel, Lifetime and Disney Channel among others. *Regional restrictions apply.
What are some shows I can watch on fuboTV?fuboTV gives you live and on-demand access to top shows like This Is Us, The Simpsons, The Walking Dead, The Bachelor, Shark Tank, Keeping Up with the Kardashians, House Hunters, Saturday Night Live, Chopped, Tucker Carlson Tonight, The Rachel Maddow Show, The Conners, Family Guy, Atlanta, The Masked Singer, American Horror Story, Billions, Shameless, Ray Donovan… the list keeps growing.
Are leagues like the NFL, NBA, MLB and others available?Absolutely! Not only does fuboTV have the NFL, NBA and MLB, but you can also watch NHL, NASCAR, MLS, golf, tennis, boxing, MMA, college sports and more. Plus, we have every golf major, tennis major and Triple Crown race as well as full coverage of specials like the Super Bowl, World Series, NBA Finals, Stanley Cup Playoffs and Olympics.
Is fuboTV available where I live?fuboTV is currently available in the United States, Canada and Spain. Packages and pricing differ per country.
Can I record games & shows?Yes, every fuboTV account includes 30 hours of Cloud DVR space at no extra charge. You can hit record from one devices, start watching on another, and finish in another.
How much does fuboTV cost?Prices vary based on your plan and selected add-ons. Our most popular plan in the United States includes 100+ channels at $64.99 per month.
Do I have to sign a contract?No. fuboTV is strictly on a month-to-month basis. Your subscription will automatically renew until you choose to cancel your account in your profile.
What if I want to cancel?We'd hate to see you go, but we understand. That's why we've made it easy. Cancel online anytime without paying fees.
What devices can I watch fuboTV on?You can watch fuboTV on your computer, iPhone, iPad, Android phone and tablet, Roku, Apple TV, Chromecast, Samsung Smart TV, Xbox and Amazon Fire TV.
Can I stream shows on my TV?Yes. The easiest way to watch fuboTV on your TV is with a Roku, Apple TV, Amazon Fire TV or Chromecast. Simply install the fuboTV app on your device to stream on your TV.
How many devices can I simultaneously watch on?fuboTV can be actively streamed on two devices at the same time. Need a third stream? Add Family Share to your account for an additional $5.99/mo.
The old college try: beIN Sports shrewd gambit for American eyeballs
Sean Keeler: A Qatari-based network known for bringing La Liga and MotoGP into American homes is gambling on college sports to expand its US footprint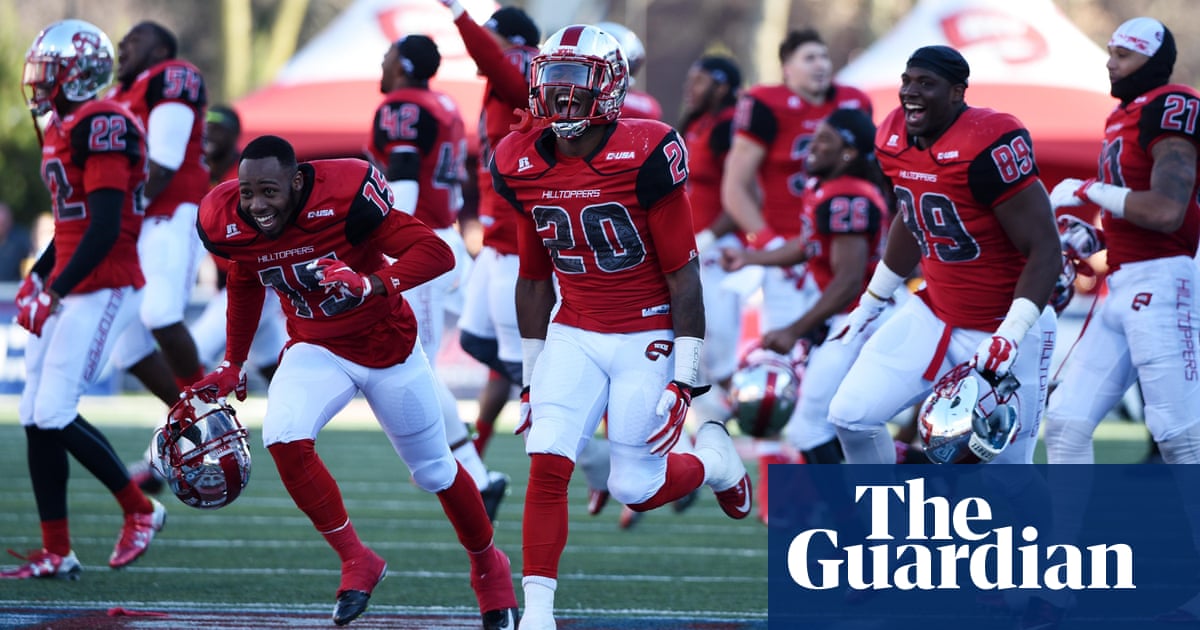 In one corner, the House of Thani; in the other, Waffle House. As you might imagine, what rocks the socks off of Hattiesburg doesn't necessarily translate in Doha. Or even London, much to John Duff's chagrin.
"When I was selling it internationally and on the discussion (phase) of it, I had to first start at the beginning and explain what college sports was," Duff, the director of business development and strategy for beIN Sports USA and Canada, recalls with a soft chuckle.
"I did get questioned by someone in the London office. She asked why I kept using the words 'college' and 'sports' together. And the funny thing was, I actually didn't have an answer. I was kind of caught off-guard.
"And then when I qualified it, I said, 'Well, because we play sports in college in the US.'
"Her response was, 'Well, why would you do that?'"
On paper, they're a strange pair of broadcasting bedfellows, a plate of Machboos served with a side of hush puppies and sweet tea. When beIN Sports last month announced a multimedia partnership – believed to be over three years starting this fall – with Conference USA, a 14-school collegiate sports collective based in Dallas, it wasn't a leap of faith for either party, but a leap nonetheless, an intercontinental marriage of disparate cultures (and sports) under one umbrella. Duff digs Formula 1. He digs college basketball. Same planet. Different tribes. And he's the television exec in the middle, trying to bridge two worlds that rarely, if ever, intersect.
"It wasn't easy," Duff says. "It was very difficult. It took a very long time. From a cultural standpoint, when I talked about college sports, it doesn't resonate (overseas), because it doesn't exist anywhere else."
And yet for the better part of the last year, Duff hammered. And cajoled. And persisted. Which is how a Qatari-based television network came to embrace one of the most American of Quintessentially American Things: collegiate athletics. Cue the raised eyebrows on the domestic front, including a memorable headline produced not by the Onion or the twisted skulls over at Funny Or Die, but from a blog post on the Biloxi (Mississippi) Sun-Herald's website: "It was only a matter of time before C-USA and Al Jazeera joined forces."
In any language, television is an eyeballs business, first and foremost. For beIN, the short answer is that biting into the NCAA apple is a branding initiative and a footprint imperative, not necessarily in that order. Since its 2012 launch, beIN Sports US has carved a niche in bringing global sports – primarily soccer leagues such as La Liga, Serie A, Ligue 1 and England's Championship – to Yankee screens. The content is compelling; the talent knowledgeable and engaging; the production top shelf.
The challenge isn't that Neymar isn't a household name in North America. It's that Neymar's name alone doesn't get you into enough households, especially in the flyover States.
"(With) the general market, the English-speaking population, soccer only goes so far," says Duff, whose CV includes stints at MTV, Bravo, IFC, and, most germane for this particular exercise, the old College Sports Television network (CSTV). "If it's 'somebody else's sport,' they'll watch as long as there's an American competing or an American team (involved) … if there is somebody participating, it doesn't matter how obscure the sport is. So we take it from that perspective to start with. In order to relate to the general market, the English (first) market, you need to localize."
According to Nielsen, beIN's English-speaking feed was available in an estimated 25.2m homes as of February. By comparison, ESPN's penetration was reportedly 90.9m homes; Fox Sports 1, an estimated 84.1m; NBC Sports Network, 83m; NFL Network, 69.6m.
Combined, beIN's English and Spanish feeds reach more than 42m homes, a figure that jumped 38.4% from April 2015 to April 2016. And yet medialifemagazine.com reported that during the first quarter of 2016, the network averaged just 15,000 total day viewers.
"So we want to drive audience with local, relevant content," Duff says. "It's a pretty easy exercise when you start to do the analytics and get the dates with (big) college (events), it wins over and over and over, outside of the select NFL games."
So Duff started making calls late last summer to test the waters. A handful of leagues pitched basketball packages to the network, but beIN preferred a multi-season commitment to cement its first foray into NCAA waters. During the 2016-17 school year, the network is slated to air 10 C-USA football games, 10 men's basketball games, 10 women's basketball games, 10 men's soccer and 10 women's soccer games, and 12 baseball and 12 softball games. The offerings run from August through May, with multiple sports during fall, winter and spring.
"We like the idea of kind of thinking outside the box," says C-USA associate commissioner Kelly Carney. "TV as we know it is changing, and so (we wanted to be) able and open to other networks, especially to someone that has established clearly that they know what they're – they just want to do it over here."
Duff had reached out to Carney, the league's commissioner of marketing and television, to gauge her interest ("We didn't have the rights at the time," Duff recalls. "It was more of a 'Hey, Kelly, how are you doing?'"); the two went back more than a decade, when Duff was at CSTV, before it was bought by CBS and rebranded as the CBS Sports Network.
"And it just kind of kept moving forward," Carney says. "We joked about them trying to 'Americanize' that network, and what better way to do it than (with) Conference USA?"
Founded in 1995, C-USA has taken some body shots during the last decade of conference realignment, with former members such as Louisville (presently with the ACC) and Texas Christian (Big 12) now rolling with Power 5 television contracts and Power 5 payouts. But the league still covers an attractive geographic swath, a gentle curve that slopes from southern Virginia to west Texas, or roughly Norfolk to El Paso, with a host of desirable TV markets (Miami, Nashville, Dallas, Houston, San Antonio) caught up in the tail of the comet. Given that fees aren't believed to be exorbitant – the Virginian Pilot reported this week that member schools can expect to receive $2.8m in television revenue in 2016-17, or roughly $200,000 per school – it's safe to assume beIN is crashing the college sports party at a reasonable cover charge.
"It was long, and it was difficult," Duff says. "But at the end of the day, our management team, our board, is as smart and as intuitive and hard-working as any folks I've seen in the industry, anywhere on the planet. And I've been in this business a long time."
For C-USA, the partnership is a chance for leverage and a year-round presence on a relatively new and growing platform; for beIN, it's another round of hot dogs and apple pie, joining the North American Soccer League (NASL) and MotoAmerica in the stable of new US properties. And more may trickle down, eventually. ESPN is still the tiger at the top of the pyramid, but the cost of rights fees, a shrinking subscriber pool and corporate mandates not to let profit margins sag – a slower but not dissimilar hemorrhaging to the spiral that besets many US newspaper sports sections – has forced the Worldwide Leader to pick and choose its battles. (To say nothing of its staff, having shed hundreds of employees and dozens of marquee salaries over the course of the last 16 months.) The network leans hardest on the sexiest ratings magnets: the NFL, the NBA, Major League Baseball, the SEC, the Big Ten and the College Football Playoff. All of which opened the door for competing networks to snatch up the next tier of circuits – NASCAR on Fox Sports/FS1 and NBC/NBC Sports Networks; the NHL on the latter; UFC on the former – to lesser (but improving) returns. After a series of unsuccessful attempts to mimic ESPN's edict of trying to be all things to all leagues, NBC Sports Network in particular seems to have found its voice by doubling down on its broadcast portfolio, treating so-called "niche" sports with depth, originality and reverence. And, in the case of the Premier League, a near-perfect pinch of viral irreverence.
If anything, Duff and beIN are trying to pull off something of a Reverse Lasso here, feeding American audiences American college sports on a plate where they've come to expect servings of rugby or rallycross. Then again, screens are screens, households are households, and eyeballs are eyeballs.
"We just had our spring meetings," Carney says. "And as I went in and spoke to different groups, the one thing I would say is, 'Go home. You have (beIN).' You just don't realize that you have it, unless you're someone who's really been (following) soccer. Some people right away were like, 'Oh, I watch it all the time.' I'll say, 'What (carrier) do you have? Go home. I'll bet you have it.'"
"When we first called (colleges), I called and they didn't know who we were," Duff says, chuckling again. "Seriously. They didn't. Unless you knew soccer, the general market didn't know who we were."
They will now. And Duff and beIN probably aren't done, at least where the NCAA is concerned. He says other collegiate conferences are curious, especially with no guarantees from ESPN or FOX, and with so many European soccer matches finished by midday on the east coast, beIN still finds itself with evening slots, prime-time slots, free for live events. Of the 10 C-USA football games on the network's slate this fall, all are scheduled to kick after 5pm eastern time.
"It's not a one-trick pony and it's not a quick fix. It's our long-term strategy," Duff says. "I think for us, it's more qualitative than quantitative. It's (finding) the right package, the right conference, that makes sense for us."
The canvas is vast, but it's far from blank. There's been talk of a College Gameday style pregame show, possibly live from a league site, plus supplemental or feature-based programming throughout the week. Duff is hunting for on-air voices and production teams who already know the American side, the football and basketball side, of the equation. And even if the zone blitz and Sagarin ratings don't register with his bosses overseas, Duff insists, the campus vibe will.
"You really need to capture the student body, the tailgating, the enthusiasm, the crowds," he says. "I bring it up all the time internally. When I go to my college basketball games, if I'm lucky enough to get into the student section, I'm hopping up and down the whole time. That's what makes it awesome. You don't see that in international soccer matches. You just don't. The excitement, the enthusiasm, the pride that you see in college sports, you can't replicate (it) anywhere else. It doesn't exist."
Referans :
blog.flowics.com
www.nytimes.com
advanced-television.com
www.fubo.tv
www.theguardian.com